Top 100 Wonders - the Only Places You Need to Visit
---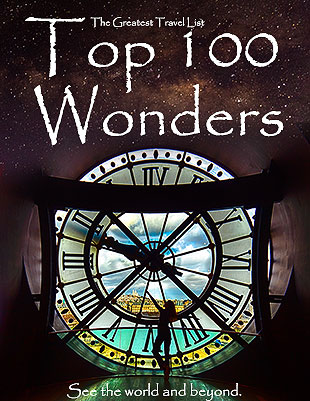 A 35-page guide that will help you see the world faster, cheaper and more conveniently, delivered to your
Email
,
Kindle
or as
Paperback Book
. The guide goes beyond just listing travel destinations, but also combines World Wonders with Big History, Philosophy and Science. You receive:
Best destinations in Europe, Asia, Africa, North America, South America & Oceania
Additional exclusive wonders in Nature and Science, placed in a timeline of big history.
An understanding of their importance and relation to Earth, Life and Humans.
Help planning your adventures, saving both time and money.
The authors (About us)
have spent 12 years researching and exploring the best Wonders, based on the concept of transcendentals; Truth, Goodness and Beauty. What are the most enlightening, noble and beautiful places one can experience during a lifetime? Weather you are a professional, student, traveler, photographer or simply someone who has an interest in the world - this guide will awaken not just wanderlust but also expand your mind. It is an amazing start to your adventure.
Free Adventures and Travel Tips - Follow our Blog
---
You can Subscribe to all Blog articles by pressing "Follow" or "Like" on our Facebook page:
facebook.com/Top100Wonders
Travel Guides, Blog and Award-winning Photos
---
Top100Wonders.com has created the "Top100Wonders"​ series; A collection of Books, Guides, and Award-winning Photographs. They were designed to: Make your travels Easier, Cheaper, and more Convenient. Convey a story of Life, Humans and Innovation. Combine Travel Wonders in a timeline of Big History & Science.

All Top100Wonders' products are created according to the concept of "Transcendentals". They entail that the starting point should always be "Truth" (fact), so that ensuing decisions will be based on an accurate platform. Then you move on to "Goodness" (do the right thing), and finally "Beauty" (excellence in performance or general improvement). For the observant reader, these 3-step-concepts will jump off the pages.

Top100Wonders takes great professional pride in providing the most accurate and realistic imagery from our destinations. 12 years of research and exploration, 1284 days on the road, and more than 250 destinations, has resulted in over 10 000 photographs and videos. Our ambition is that anyone with the remotest interest of the world can go on a fantastic exploration by partaking in Top100Wonders. Regardless of their inclination or ability to actually complete a physical journey, they should be able to experience the world. Our photos & videos have received several awards, and high acclaim for imparting a genuine "feel" to its viewers.